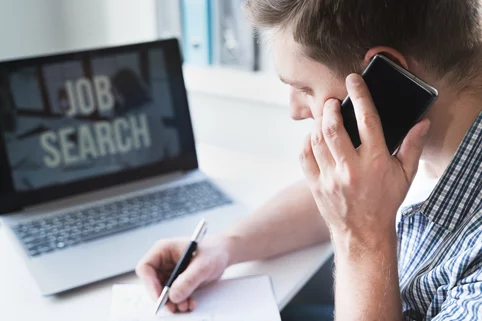 If you are looking for a job, don't settle for just sending your CV. As a job seeker, you can do a lot before actively finding a new job. For any job applicant, professional application letters can open many doors since, in them, you will demonstrate your professional profile adapted to the job post you are applying for.
In this article, we will share tips on how to find a dream job and apply for it effectively.
Key Points to Help You Find Your Next Job
So, before your job hunt, gear up to face the job market in the best possible way. Here are some tips that you should take into account:
Be responsible: If you want to be a successful professional, you must always be responsible and fulfill your obligations. Prepare yourself to handle the unexpected.
Use social media: We live in an interconnected world where you are left out of everything if you do not handle social networks. Learn how to use them to refine your job hunt.
Learn to deal with rejection

: Growing up has a lot to do with learning that you won't always get everything you want. Be ready for that.
Take on a job interview: To land any job position, you must be prepared to face the intelligent questions of a recruiter. So, rehearse answers to common questions.
Organize your time: Time organization will be everything in your life, and if you manage your schedules in advance, you will be more and more efficient.
Practice networking: Having a good network of professional contacts is essential to be successful in today's job market. Spend some time on it.
Write a good resume: If you don't know how to write a good resume that highlights your skills, you will never get a recruiter's attention. Learn some resume writing tricks to stand out.
Find your goals: Motivation will be the engine that drives you towards success. A job hunt is tedious, so you must be prepared to overcome pressing situations and move on to better things.
Evaluate the role: Once you've got the job offer, the hard part is to decide whether to accept it or not. Take a moment to analyze every aspect while keeping the objectives in mind to make the right decision.
Value work: If you get a job that you like and enjoy, you must know how to value it and be grateful for it.
As A Job Seeker, What Should You Keep in Mind Before Applying for A Job Offer?
If you want to be successful in finding a new job that fits your expectations, do not rush! Keep the following points in mind before applying for the job offer:
Review your CV and the documents you will send to ensure you do not make errors in content, geography, or adaptation to the offer in question.
Analyze if the company you will apply to is serious if it has a presence in the market. And, therefore, as a job applicant, you can decide to apply for it or not.
Find out everything you can about the company you are applying to and see if this is indeed a place you would like to work.
Think about the future, what do they offer you, is there a future, is the  company reliable, what will be the quality of work-life. Do not limit yourself only to the present to choose, evaluate future prospects.
Does the company culture match what you are looking for? Do they promote actions that are in line with your values? Is this the type of company you would like to work for?
Consider if they offer you the salary you want and do you need anything else. Think about their offer to see if you would  accept less than you are worth, or you will enter a vicious cycle of devaluation.
Look for similar offers and compare the conditions. This will help you get an idea of how appropriate or inconsistent the particular job offer is. What should a reasonable offer look like? How do you want to move forward? Answering these questions will give you the answer to whether or not you should join that company.
How to Apply for a Job?
Now that you have considered several aspects of the search for the ideal job, you must know how to make an effective job application. It is a formal style that has the advantage that if you know the main guidelines of the structure, then it is only a matter of customizing it. Find out what they are and start preparing for them.
Professional Job Letters you Need:
In this case, the job applicant asks a trusted former boss to write a letter talking about why they are the right person for a new job based on the competencies that they demonstrated in their company. Thanks to their vote of confidence, this helps the new employer.
A sample cover letter crafts a very good impression of its author to get a certain job. Therefore, the applicant must write a clear, brief, and concise application first, highlighting their abilities and why they want to get the job.
Keep The Following Points in Mind to Make Your Cover LetterStand Out:
Personal data: You must include your physical address, your email, your landline and your cell phone.
Work experience: List from most recent to the oldest companies you worked for, the position and the main responsibilities.
Education: Explain where you studied and specify the certifications or any courses you took, including languages.
Personal references: Include references or recommendations from trusted people with whom you have worked.
Outsourcing4work can help you with finding a new job. With us, you can easily search and apply for new jobs as they become available. Sign up today and land a dream job.